Home » Good Results With Optima Nozzles
Good Results With Optima Nozzles
Damen has delivered the first new beam trawler to take to the North Sea in twelve years. Over the last ten months, Damen Maaskant Shipyards Stellendam (Maaskant) has outfitted the 41-metre hull from stock. The vessel, designated UK 46, is for Hakvoort Brothers, based in Urk, the Netherlands. A key feature of the vessel is the installation of twin Optima nozzles manufactured by Damen Marine Components (DMC). This is the first time that Maaskant has installed these in a fishing boat.
The nozzles are Damen Optima L/D 0.4 models with a diameter of 3.63 metres. The stainless-steel collars surrounding the propellers deliver improved thrust both ahead and astern and so require less engine output for a given speed. In addition, they also enhance performance at low speeds and give less resistance at higher speeds.
The fishing winch also represents a milestone for both Maaskant and DMC. It is the first such winch to be manufactured by DMC and was built to a design by Maaskant. A third Damen company also played a role in the fit-out of UK 46, with Damen Anchor & Chains supplying their trademark products to the vessel.
"It's been a real pleasure to complete this trawler and see her afloat at last, and to work with our sister companies to make it a success," says Eric Moerkerk, deputy director at Damen Maaskant Shipyards Stellendam. "The hull has been here at Maaskant for more than ten years and we have long looked forward to it being out at sea where it belongs. This is the first time that we have fitted a trawler with nozzles and while it is early days for the vessel, the indications are that she is working well and the nozzles are delivering the expected efficiencies. The next three fishing boats that we will be building will also be fitted with nozzles from DMC."
Kees Oevermans at Damen Marine Components added; "The cooperation between DMC and Maaskant has been very good and fast. We worked closely with all the relevant departments including the project management and design functions. The benefit of this partnership for the client is that when our products arrive at the yard, everything fits and performs as promised."
Beam trawlers use outrigger booms to tow two trawls, one on each side. In the North Sea they are commonly used to catch shrimp and flatfish. The last such fishing boat to join the Dutch fishing fleet was the Catharina KW-145, launched in 2006. Prior to that, Maaskant delivered two others; the Cornelia BR-14 in 2004 and the Jan Cornelis GO-22 in 2006. Both these were also built to the Damen Maaskant design.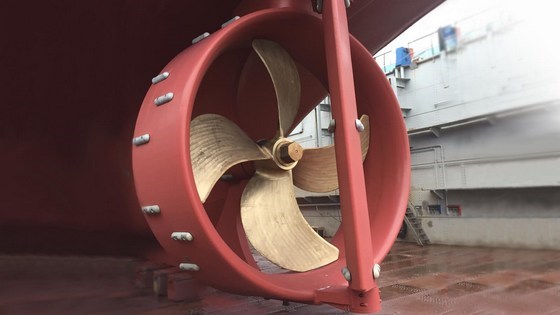 Arie van den Adel, Chief Operating Officer of Callan Marine, stated: "Our dredges depend on these working vessels to complete large scale public and private projects. We are proud to have the quality of winches provided by DMC on these important new builds."
Ronald Beekhof, Sales Manager Damen Marine Components, added: "It gives us great pleasure to be able to show to the US market that we design and build equipment that vessel owners and operators can depend on for reliability and minimal downtime over the long term. Our thanks go to C&C Marine for giving us this opportunity and we look forward to supporting them throughout the installation and commissioning process."
The four Multi Cats 3013 will be delivered over the course of 2023.