Towing pins are used on tugs and working boats. They mainly serve to guide towing ropes and anchor chains. When an anchor has to be hauled in or if there is a tow behind or in front of the vessel, the towing pins are used to secure the towing rope or anchor chain. This is then always guided straight backwards or forwards and can thus not move uncontrollably across the deck, which helps to minimise any danger to the crew. During normal navigation, when not in use, the towing pins are flush with the deck.
Because the towing pins can be operated separately, they can also be used 'at-hand' and 'to clamp' a hawser. This makes it possible to work safely on a hawser, or to take it over.
In addition, the towing pins can be fitted with a chain stopper. This allows the anchor chain to be fixed and to release the working line of the anchor chain with the buoy. Damen Marine Components has turnkey solutions for small to medium-sized vessels up to 100T Safe Working Load. These vessels usually require a compact construction due to the often limited space in the aft peak and the design of the steering engine, which is located in the same part of the vessel. More than 100 systems have already been delivered in various versions. Thanks to this experience, we are always able to offer you the right solution for your vessel.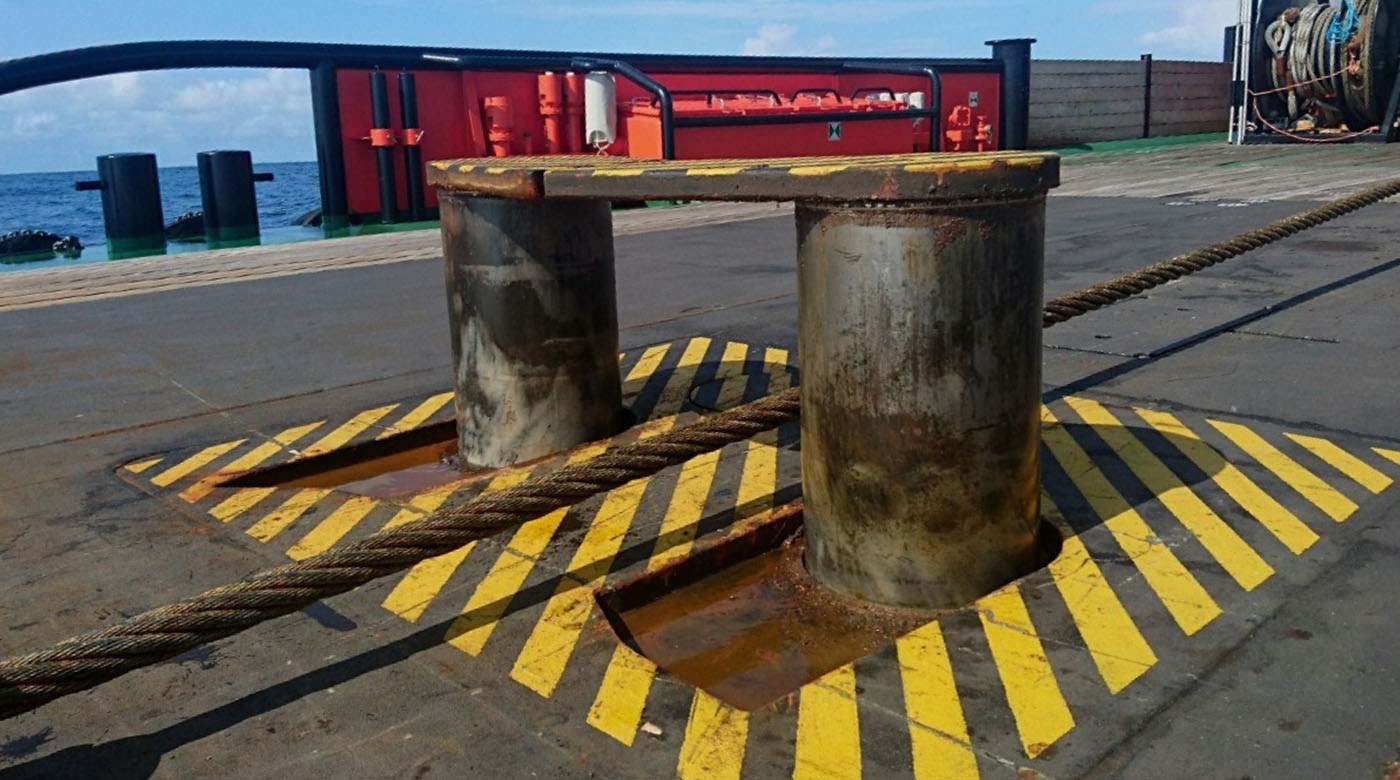 ROBUST DESIGN


A design that is characterised by the hardened rotatable bushings on the pins, covered in a seaworthy coating. Wear is thus reduced to a minimum.

SAFE


When retracted, the towing pins are completely flush with the deck and pose no hazard.

COMPACT


The towing pins are mounted in a closed box, which is completely welded into the vessel's structure.

LOW MAINTENANCE


Our retractable towing pins are available with an automatic lubrication system, making them very low maintenance.

CERTIFIED


DMC towing pins meet Bureau Veritas requirements for towing and anchor handling vessel regulations.
Two, three, or four-pin configurations available
Optionally fitted with flippers
Available with 1 or 2 chain stoppers
For questions and/or comments, you can contact us using the details below or through the contact form.
All contact details