Quick response to unpredictable conditions
Higher demands are placed on the performance of a towing winch operating under extreme conditions. For example, when guiding tanker ships offshore at an LNG terminal, where there are large tidal differences and rough waves, or when accurate navigation is required, such as in the narrow Panama Canal. The direct-drive towing winches from DMC are extremely suitable for this purpose.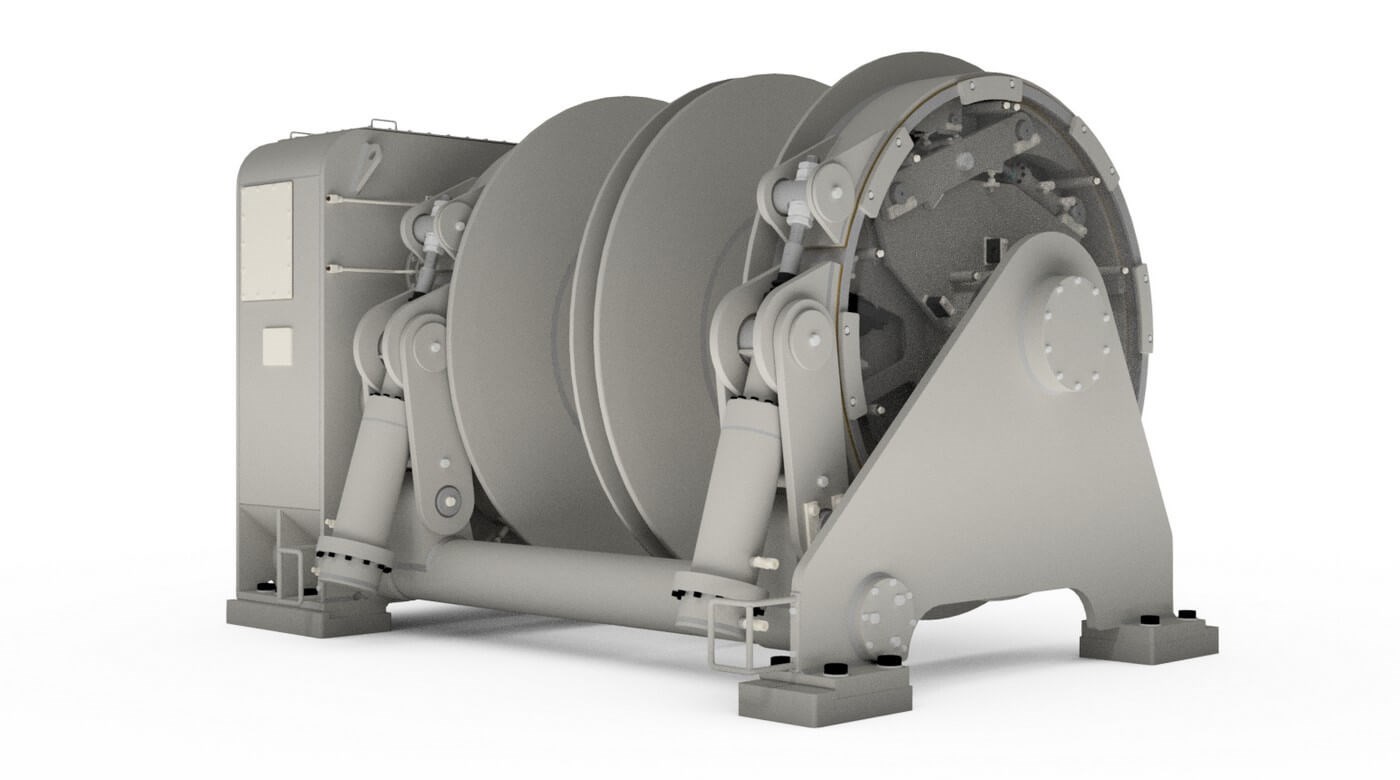 Type of cable: Synthetic towing wires (polypropylene, Dyneema®)
Pulling force: Standard up to 30 tonnes, higher on request
Braking force: Standard up to 200 tonnes, higher on request
Dynamic braking force: Standard 110 tonnes, higher on request
Drum configuration: Single, split or double
Motor: Hydraulic
MINIMAL RISK OF CABLE BREAKAGE


The motors of our escort towing winches are directly attached to the main shaft. This results in an extremely low mass moment of inertia, so less force is required to generate speed during rapid acceleration. This low mass moment of inertia prevents cable breakage or capsizing.

LOW-MAINTENANCE DESIGN


The motors of our direct-drive (escort) winches also act as dynamic brakes. This eliminates the need for additional (cooled) brake discs, which are subject to wear and require a lot of maintenance. In addition, we minimise the number of rotating points, levers and lubrication points.

CERTAINTY THROUGH CERTIFICATION


All our winches are by default certified by Bureau Veritas. In addition to the verification of the specifications in advance, they are tested in our factories up to and in excess of the maximum pulling and brake-holding force, in the presence of a class surveyor.
This provides our customers certainty in the winch performance and avoids loss of time during installation, commissioning and sea trials.

EASY ALIGNMENT AND ATTACHMENT


All direct-drive towing winches from DMC are designed to be deck-mounted with only four foundation points. This standardised print ensures easy alignment and attachment of a DMC winch to the deck. It also results in as few obstacles as possible on deck, where towing wires can become snagged.
CRITICAL PARTS – for which the market offers no suitable solution – are developed, tested and produced in-house by DMC. These include brake cylinders, clutch cylinders and rotary joints.
OPTIONS FOR DIRECT-DRIVE TOWING WINCHES
Mooring head on main shaft (only possible in combination with 1 motor)
Line force measurement during towing
Line length measurement
Control system
For questions and/or comments, you can contact us using the details below or through the contact form.
All contact details