RESISTANT TO EXTREME CONDITIONS
An anchor-handling winch is mostly used offshore on multi-purpose work vessels in the dredging industry and in oil and natural gas extraction. This involves work in particularly harsh conditions. DMC's anchor-handling winches are built to withstand the enormous forces which can be released under the most extreme conditions.
Our anchor-handling winches are based on the renowned standard range of DMC towing winches, executed with increased pulling forces. They are designed to work in the safest possible way in the most demanding environments. Multiple configurations are possible as we build our winches with standardised modular solutions. In addition, customisation is always an option.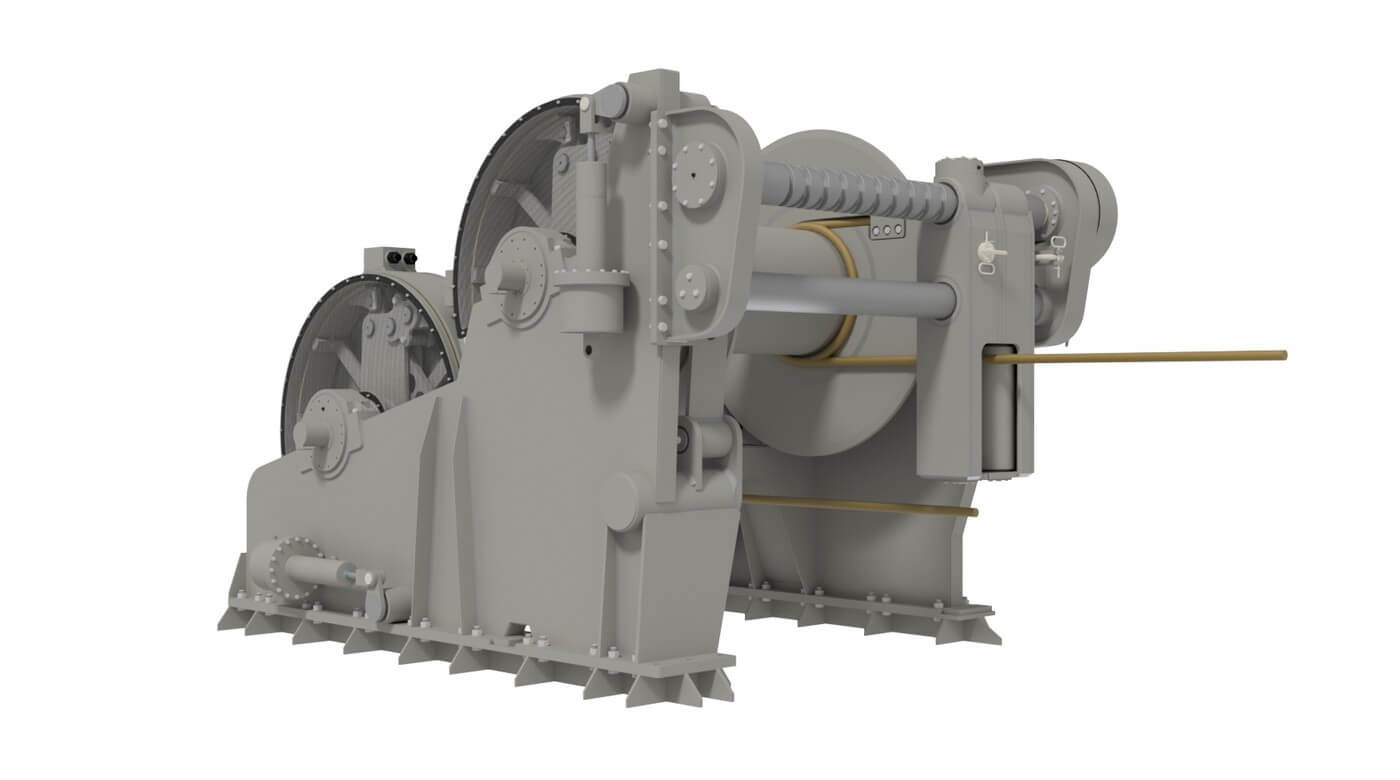 Type of cable: Steel cable
Pulling force: Standard up to 100 tonnes, higher on request
Braking force: Standard up to 200 tonnes, higher on request
Drum configuration: Single, double or triple, and side-by-side or waterfall arrangement
Motor: Hydraulic or electric
ROBUST DESIGN WITH DURABLE MATERIALS


The design of our anchor-handling winches is simple but effective as well as low in maintenance. We are able to achieve this by limiting the number of parts, making critical parts robust, using stainless steel and opting for high-quality rotating parts. In addition, we minimise the number of rotating points, levers and lubrication points.

QUIET, COMPACT TRANSMISSION


Anchor-handling winches from DMC are equipped with high-quality drives. The gears have been calculated for service life and strength according to the ISO 6336 standard. The high quality of the alloy-steel toothing ensures very smooth and quiet running, which extends its service life.

A CLEAN, LOW-MAINTENANCE DESIGN


Our anchor-handling winches are fully coated with a high-quality, 3-layer paint system. The base layer is an extremely zinc-rich primer which has a zinc content of more than 90%. This ensures that our robust winches are optimally protected against corrosion, even under the most extreme conditions.

EASY ALIGNMENT AND ATTACHMENT


All DMC anchor-handling winches are designed to be deck-mounted with only four foundation points. This standardised print ensures easy alignment and attachment of a DMC winch to the deck. It also results in as few obstacles as possible on deck, where towing wires can become snagged.
OPTIONS FOR ANCHOR-HANDLING WINCHES
Wire-spooling system
Mooring head on main shaft
Line force measurement
Line length measurement
Control system
For questions and/or comments, you can contact us using the details below or through the contact form.
All contact details