ALWAYS OPERATE AT THE HIGHEST POSSIBLE SPEED
Towing winches are often used on tugboats assisting container ships and other cargo ships in ports and port terminals. The pulling and braking force, in combination with the transmission, determine the application of this type of winch. DMC's towing winches, driven by gearboxes, are unique in use. This solution developed in-house ensures that the speed of the winch is automatically adjusted to the required pulling force. The variable speed allows the winch to always run at the highest possible speed. This eliminates the need to manually choose between two or three-speed models.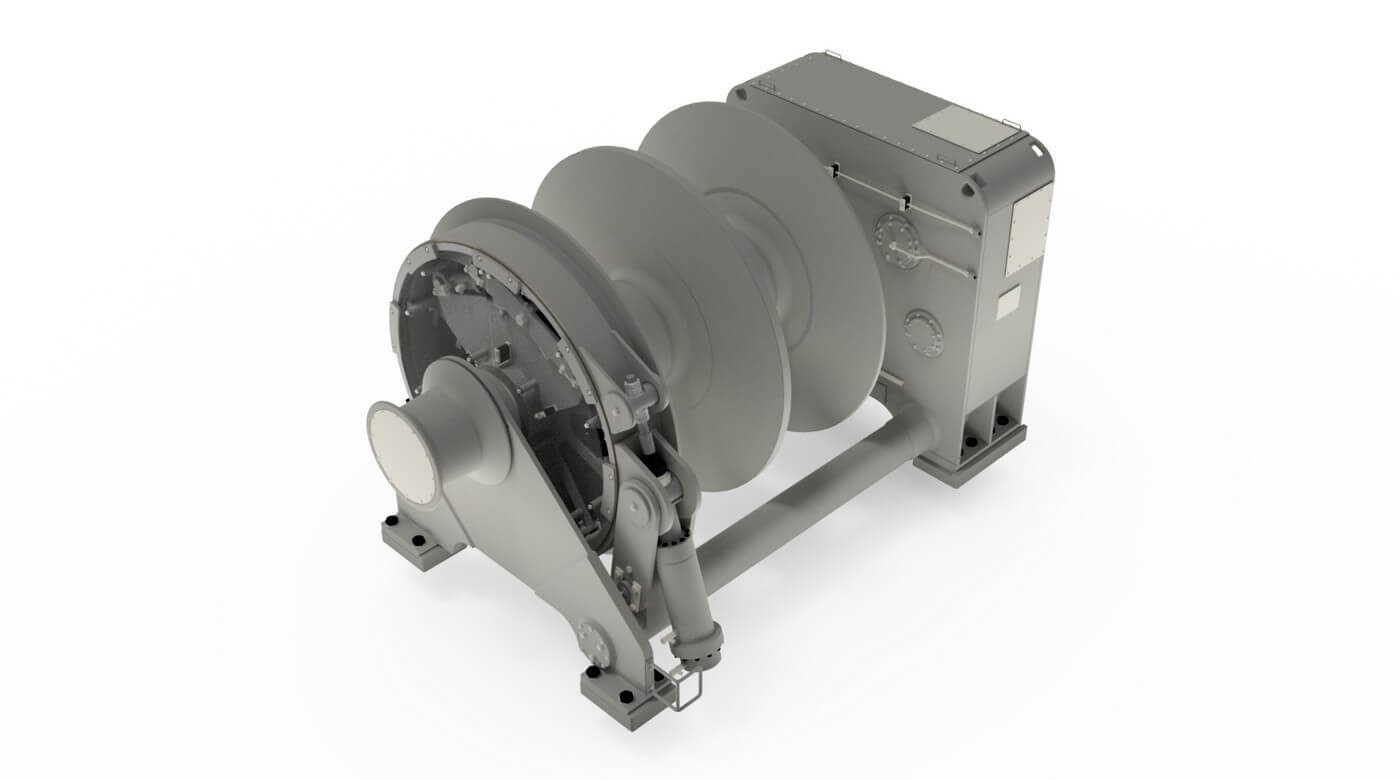 Type of cable: Synthetic towing wires (polypropylene, Dyneema®) or steel
Pulling force: Standard up to 35 tonnes, higher on request
Braking force: Standard up to 200 tonnes, higher on request
Drum configuration: Single, split or double
Drive: Hydraulic and electric
HAULING OR VEERING AT MAXIMUM SPEED


The DMC variable-speed drive is the most recent innovation in winch technology. This makes it possible to always haul or veer at the highest available line speed. The speed of the drive system automatically adjusts itself in relation to the required line force.

ROBUST DESIGN WITH DURABLE MATERIALS


The design of our gearbox-driven towing winches is simple but effective as well as low in maintenance. We are able to achieve this by limiting the number of parts, making critical parts robust, using stainless steel and opting for high-quality rotating parts. In addition, the number of rotating points, levers and lubrication points are kept to a minimum.

QUIET, COMPACT GEARBOX


Towing winches from DMC are equipped with high-quality drives. The gears have been calculated for service life and strength according to the ISO 6336 standard. The high quality of the alloy-steel toothing ensures very smooth and quiet running, which extends its service life.

CERTAINTY THROUGH CERTIFICATION


All our winches are by default certified by Bureau Veritas. In addition to the verification of the specifications in advance, they are tested in our factories up to and in excess of the maximum pulling and brake-holding force, in the presence of a class surveyor. This provides our customers certainty in the winch performance and avoids loss of time during installation, commissioning and sea trials.
CRITICAL PARTS – for which the market offers no suitable solution – are developed, tested and produced in-house by DMC. These include brake cylinders, clutch cylinders and rotary joints.
OPTIONS FOR GEARBOX-DRIVEN TOWING WINCHES
Wire-spooling system
Mooring head on main shaft
Anchor chain lifter(s) on main shaft
Line force measurement during towing
Line length measurement
Control system
For questions and/or comments, you can contact us using the details below or through the contact form.
All contact details