Home » Damen Marine Components converts pusher tug Terina-b "custom work down to the last millimetre"
Damen Marine Components converts pusher tug Terina-b "custom work down to the last millimetre"
For the conversion of its pusher tug Terina-B, owner Riekelt Brouwer opted for Damen Marine Components, which supplied new rudders, steering systems and nozzles, among other things. Now that the boat is back in service, Riekelt looks back at the project. "The increase in efficiency is huge."
Riekelt Brouwer now feels much more relaxed when he is on board the Terina-B. Until recently, it was always stressful getting the cargo from IJmuiden to Beverwijk, Amsterdam and Diemen on time, especially when there was a lot of wind on the North Sea Canal. Now that the pusher tug has been fitted with more powerful engines, and Brouwer has had new nozzles and fish tail rudders from Damen Marine Components installed, much less power is required to achieve the same speed. The Optima nozzles have also reduced noise and so improved the experience of being on board by cutting out the vibrations.
"In the past, we always had to give full force, at 100 percent of engine power", says Riekelt. His crew for the Terina-B consists of his nephew Riekelt-Jurie as skipper plus William and son Juri William as deck hands. They sail daily with cargoes of sand for the firm Spaansen based in Winkel. "To reach a speed of 12 kilometres per hour with a full load now takes 25 to 30 percent less engine power. And if we don't think we'll make it in time, we still have the option of turning the engines up to full power and getting up to 14 kilometres per hour. It also saves a lot in fuel costs, and that's good for our customer."
Did he expect the new nozzles to have such an effect? "No, to be honest I didn't. A little, yes, but not that much."
Output
The higher output was precisely the reason why Riekelt wanted his ship to be converted (modified). After the Terina-B had been fitted with more powerful engines, taking the power from 370 to 500 HP, the rest of the pusher tug had to be modified accordingly. At a trade show, he got talking to Cor de Wit, Service Sales Manager at Damen Marine Components in Hardinxveld-Giessendam, who later came to take a look on board.
"The Terina-B had rotating nozzles that didn't manoeuvre sufficiently", says Cor. "We had already converted several pusher tugs of this type, built in the Czech Republic, so I immediately knew that Optima nozzles and conventional rudders would make a big difference."
Riekelt requested quotations from various parties, but eventually chose Damen Marine Components. "I had the best feeling about them. Their Van der Velden® rudder and steering gear is well-known throughout the world of inland shipping and actually Cor is too. He comes across as reliable, puts forward ideas about how to achieve the highest output and gives advice about the installation, which is really great. There are also other companies that supply nozzles, but all they do is deliver them and then it's "good luck". Cor supported us from start to finish, he was always available to take our calls. He also visited the yard several times during installation."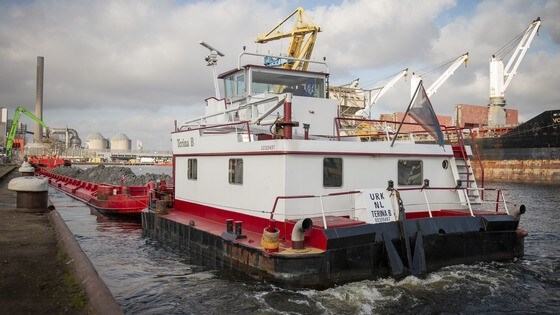 Questions
For the conversion of the Terina-B, Damen Marine Components supplied two hydrodynamic fish tail rudders including rudder tubes, which give the vessel improved manoeuvring performance, two independent steering systems and two Optima nozzles for improved forward and reverse thrust. At Riekelt's request, the installation took place at Visserij Coöperatie Urk (VCU-TCD). "They, too, were always able to turn to Cor and his colleague John Venus, mechanic at Damen Marine Components, when they had questions. DMC supply a product, but it doesn't end there for them. It's like it's their own boat."
"A project is something you do together", Cor responds. "If you don't, you're not in control of the end result. That's why we made sure we prepared and supervised it well."
Damen Marine Components had the Optima nozzles made to measure for the Terina-B. Cor: "The nozzle is integrated into the structure of an existing vessel. If you pay sufficient attention to that and simply supply a standard solution, there's still a huge amount to be done on board. We took a different approach and made sure that the headbox on top of the nozzle, which has to be welded into the vessel's hull, was exactly aligned with the ribs that run across it. We made modified nozzles for both sides, which meant there was no need to devise ad hoc solutions to make the vessel vibration-free. Getting it to fit was a very intricate job, really down to the last millimetre."
The propeller also had to be modified. "A conventional, fixed nozzle works completely differently than a rotating nozzle", explains Cor. "The propeller that goes inside it also needs to be modified. We made all the calculations to make sure the ship could handle such a major modification. The propeller supplier then removed the propeller and adapted it for optimum use with a fixed nozzle."
More efficient
The installation, in July 2019, took about three weeks. Since then, the Terina-B (named after Riekelt's eldest daughter Terina; the B stands for Brouwer) has been around 30 percent more efficient. "And a lot quieter," adds Riekelt, "because there are no more vibrations. That means less wear and tear, so in the long run it will pay for itself."
"The increase in performance is also good news for the environment, which is why we were eligible for the environmental investment allowance, a special subsidised program from the Netherlands. Our soot emissions are greatly reduced because the engines don't have to run so fast. A conversion like this can be quite an investment, but if you qualify for the environmental allowance, you get more out of it. If you get it right the first time, your bottom line will ultimately benefit. We're now sorted for years to come."
The first week the renovated Terina-B headed back onto the canal to resume its daily route, Riekelt received a phone call. "It was Cor, he wanted to know how everything was going. That might sound like a simple phone call, but it tells you everything about his after sales service. We've had good people on this project, from sales, through measuring to delivery. The installation also went well – we had a good rapport with the people at Damen Marine Components. If I had to do it again, I'd do it exactly the same way."