Home » RensenDriessen and DMC about the ultra light tankers of Somtrans
RensenDriessen and DMC about the ultra light tankers of Somtrans 'Lightweights' for shallow water
The two Ultra Light inland tankers build for Belgian shipping company Somtrans have a shallow-water hull designed by RensenDriessen. Damen Marine Components contributed ideas for the stern, into which the FLEX Tunnel System is built. "Loaded or unloaded, we always have the best of both worlds."
They don't sit still at Somtrans. After the fourth and last mega-inland tanker in their XXL series, the Belgian shipping company will also build two Ultra Light tankers in 2021. The same length (135 metres) as the XXL tankers, but less wide (18 instead of 22.80 metres) and with a special shallow-water hull developed by research institute DST Duisburg (Development Centre for Ship Technology and Transport Systems) in collaboration with ship designer RensenDriessen.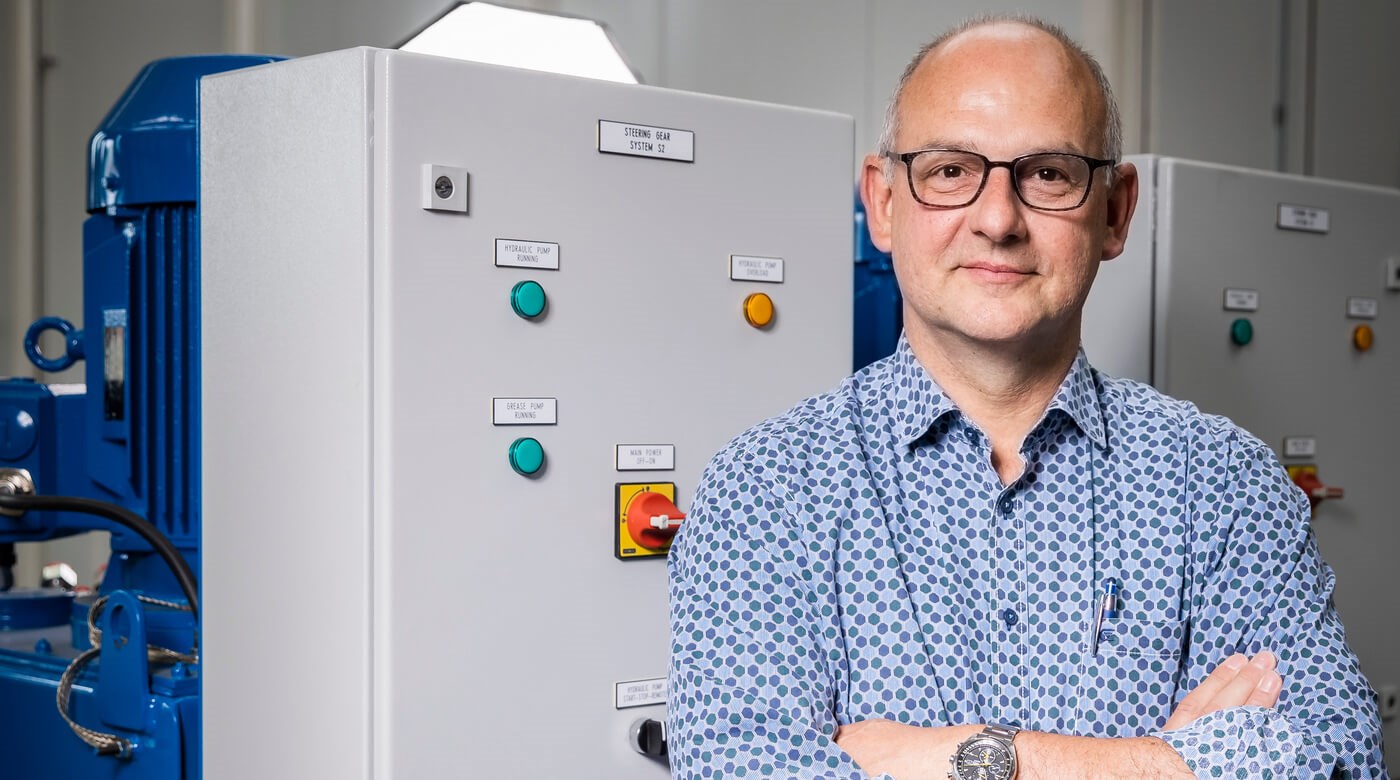 Leo van Zon, Area Sales Manager Damen Marine Components
Ultra Light is not the first shallow-water design built by the ship designer from Zwijndrecht. "We've already gained experience with our MoneyMaker concept", says RensenDriessen owner Wim Driessen. "There was a clear need for this and it works very well. Not some fashion slogan that sounds good, but simply a ship that functions in such a way that at the end of the year, you can truly say: I really have more money left."
This need has grown in recent years due to the lower water levels on the Rhine. Somtrans must also anticipate being able to take sufficient cargo with them, even at shallow draft, so that they can continue to supply their customers with raw materials.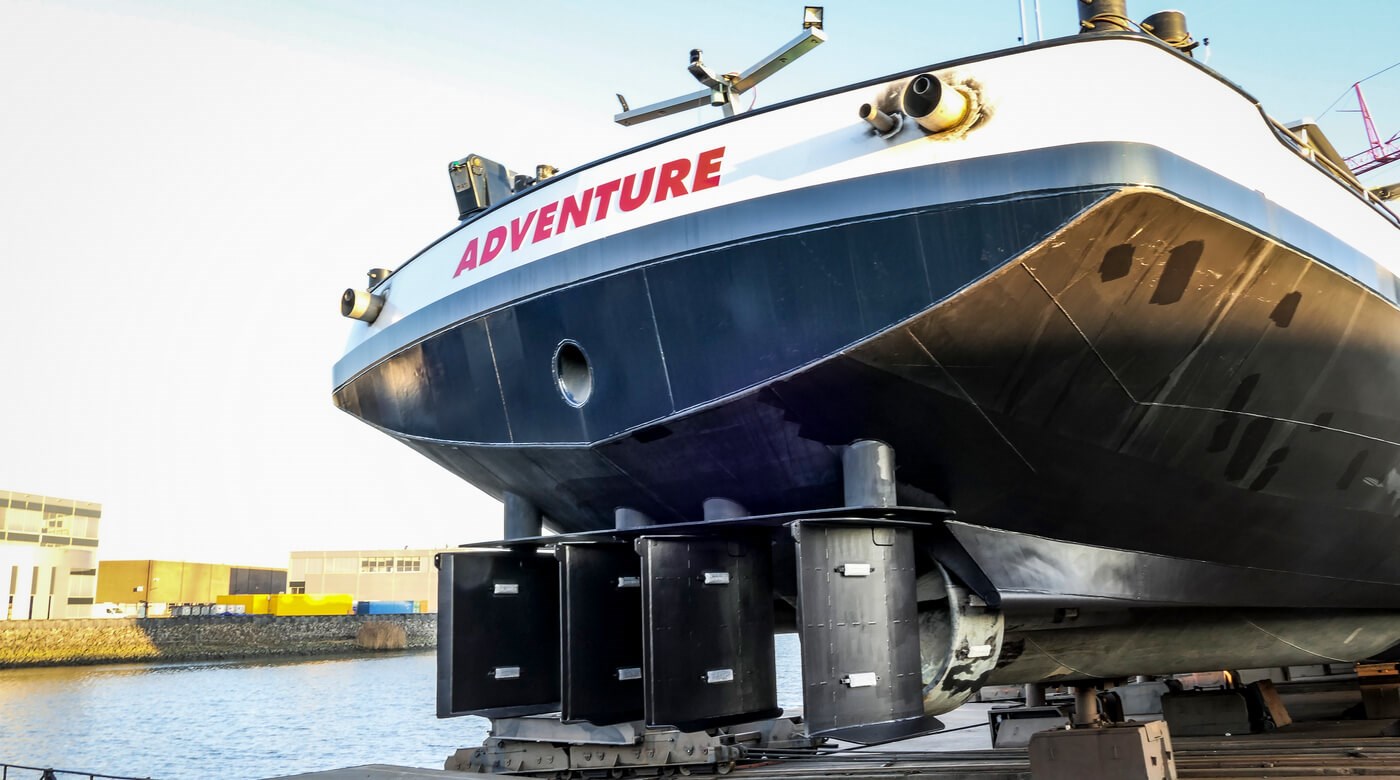 Determining the sailing profile formed the starting point for the Ultra Light design. "Somtrans has made agreements with its customers to transport a certain tonnage on the Rhine", says Driessen. "This means the ship must have that carrying capacity. That was one of the main design goals. Then you look at how you can further optimise the design. The ship must of course also function properly and get to a certain speed with the lowest possible fuel consumption in order to get it to its destination as quickly and efficiently as possible."
All those critical success factors have led to a shallow-water design that is distinctive in several ways. For instance, the lines plan and the use of special, thinner steel that is stronger and can absorb more energy than normal steel, so the structure is less thick and you save weight.
The hollow of the ship has also been taken care of in the design. Driessen: "If you give an 18 metre-wide ship a hollow of 5 instead of 4 metres, you'll have a metre difference on five bulkheads from front to back, twice the outer skin, twice the inside of the cargo tank and the folding bulkheads and the tank division. If all that saves a metre, you save an awful lot of construction weight. This has two advantages: you carry more, because the ship weighs less, and the cost price is better because you use less steel."
"You obviously need a certain cubic content; that's why the ship is 18 metres wide. You also have to be able to transport the volumes, because products can have a specific density of 1 but also of 0.7, for example. That should still fit. That's also where the challenge lies: where do I find that optimum? We succeeded in that with this design. At least, that's what the customer says, and who are we to argue with that?"
The two Van der Velden® FLEX Tunnel systems that are integrated into the hull play an important role in the shallow-water design. That is what Somtrans wanted, because their four XXL tankers are also equipped with these retractable and folding tunnels. "The positive experiences we have with this made it clear to us," says Ben Grootenboer, Fleet Manager at Somtrans.
It also suited the ship designer. Compared to a conventional tunnel system, FLEX Tunnels can be retracted when they are not operationally needed. "You want to be able to sail away at all times, even at low tide", Wim Driessen explains. "So, the propeller needs water. However, in some sailing conditions, when loaded, for example, a tunnel can also cause resistance. The FLEX Tunnels give us the best of both conditions, the best of both worlds. If you need the tunnel, you can use it. If you no longer need the tunnel, you can retract it. Ideal in both cases."
In 2015, RensenDriessen built the first ship to be equipped with FLEX Tunnels, the Rhenus Duisburg, and subsequently applied the system several times. It is not without reason that Leo van Zon, Area Sales Manager of Damen Marine Components in Hardinxveld-Giessendam, was also involved in the Ultra Light design at an early stage. Together with the engineers from DST and RensenDriessen, he looked extensively at the underwater hull, in order to achieve optimal coordination with the FLEX Tunnels, the nozzles incorporated in the tunnels and the rudders and steering gear; all these systems are supplied by DMC.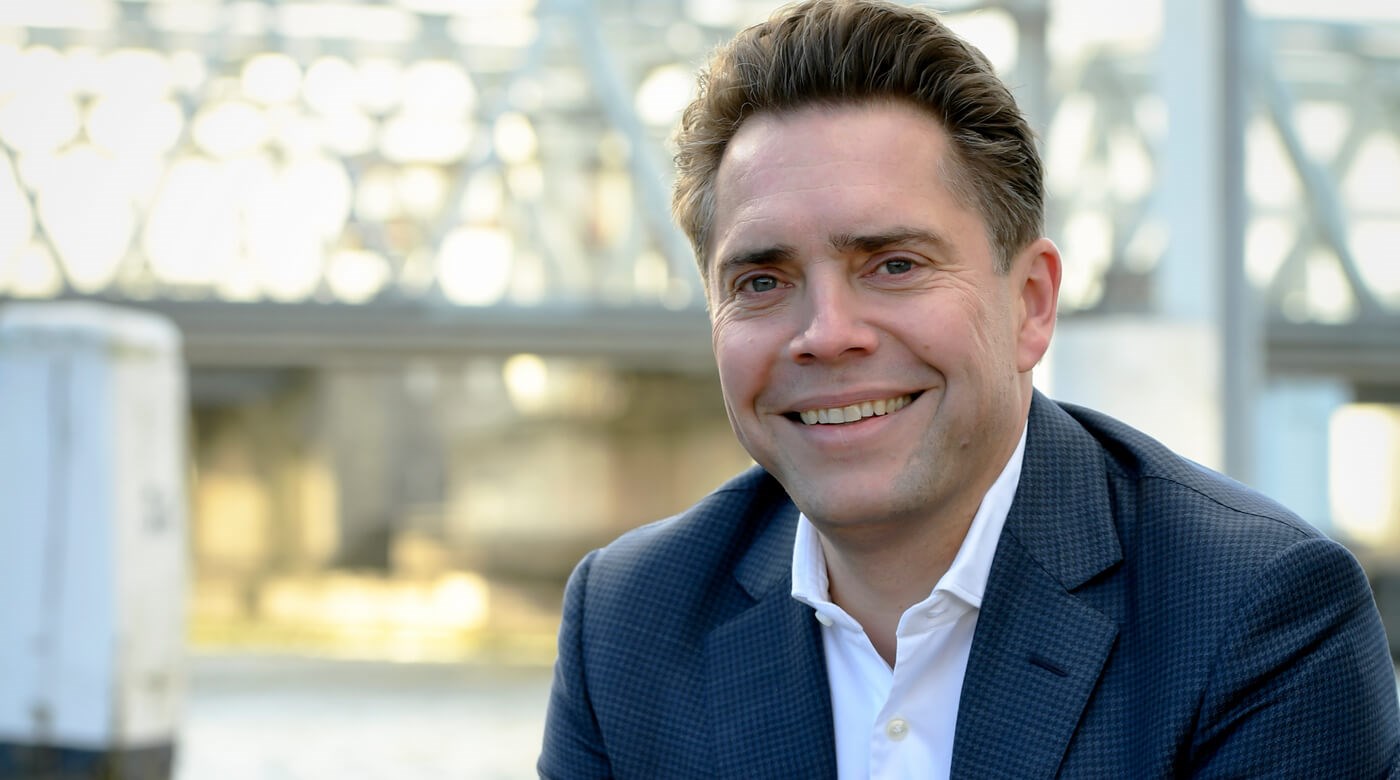 Wim Driessen, owner RensenDriessen
The collaboration between RensenDriessen and Damen Marine Components goes back at least 25 years, if not longer. Mutual trust is the starting point. Driessen: "Customers can order not just a hull from us, but also the complete ship, which is what Somtrans does. We always include the DMC/Van der Velden® components, such as nozzles and steering gear, in the outfitting specifications. The communication is good, the products themselves are very good and that's the most important thing, and the cooperation is just fine."
After the Ultra Light hulls (with built-in FLEX Tunnels) have arrived from China, the two Somtrans tankers will be finished in the first half of 2021 at the De Gerlien van Tiem shipyard in Druten. They will be equipped with dual-fuel engines that can run on both gas oil and LNG, which is nicely in line with this special project, which Wim Driessen is proud of and with good reason. "We're happy with it and have a good feeling about it. Because we believe in it ourselves, but also because the customer really likes it."