Home » Damen Marine Components supplies smart dock winches
Damen Marine Components supplies smart dock winches
Continuous calculation of force and tension on cables when bringing in ships
Evidence of the correct functioning of the innovative dock winches developed by Damen Marine Components (DMC) was provided during the controlled towage of the huge cruise ship Emerald Princess in the dock of Damen Shiprepair Rotterdam on 11th October. The winches were specially developed for this 405 metre-long and 90 metre-wide ship dock. A very smart interplay of four winches ensures a ship is pulled in smoothly and in a controlled manner under all circumstances.
The four winches provide 40 tons of pulling power per winch. There is a winch at each corner of the dock. Two winches pull a ship in and the two others at the 'entrance' of the dock control the speed and position of the ship by providing the exact amount of counterforce required. The winch system is controlled by a central computer. This winch system is powerful enough to pull any floating object into a dock. Floating objects require relatively little force to be towed, but a tall ship such as the Emerald Princess can catch a lot of wind and create large forces that must be controlled by the winches.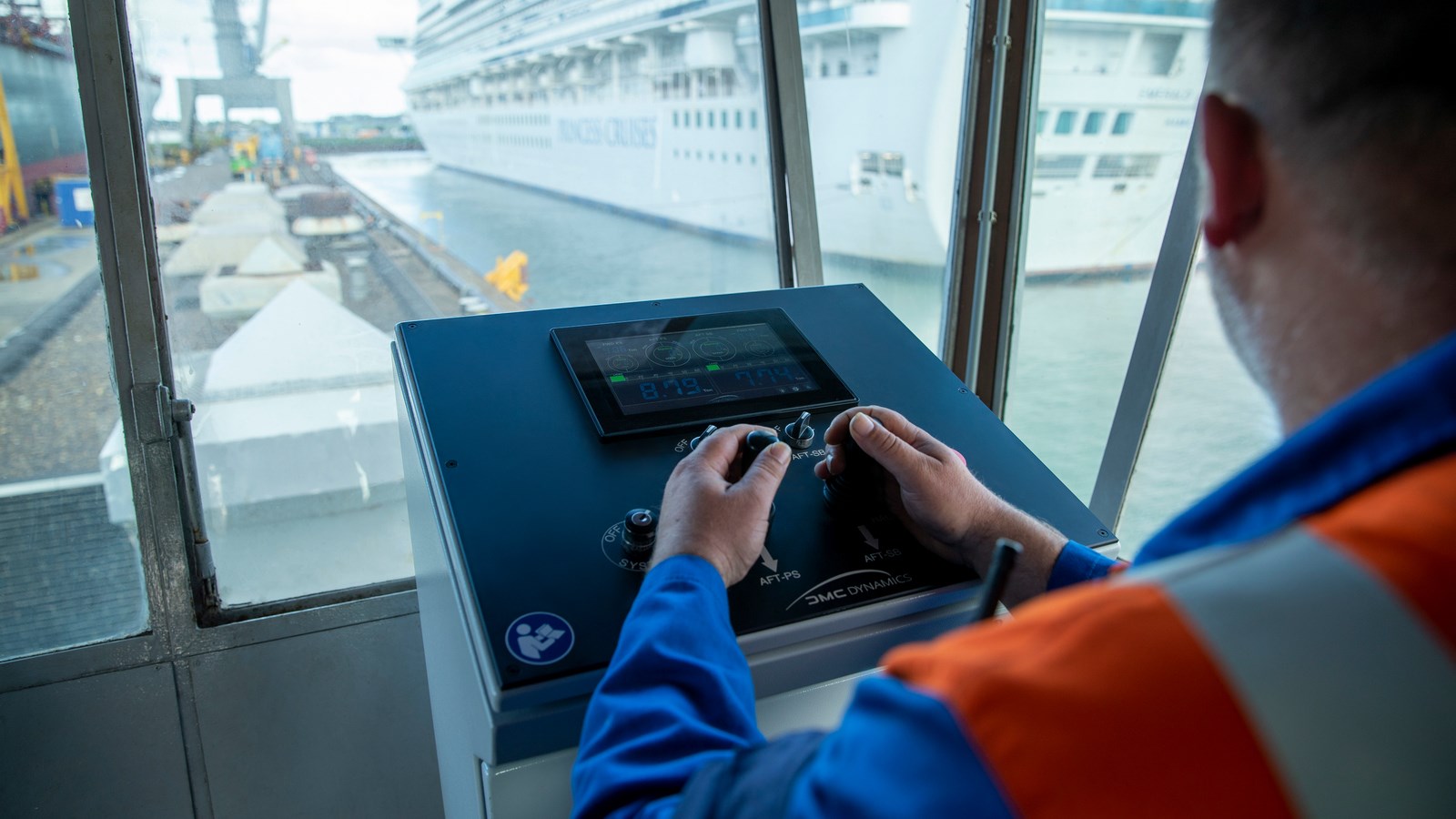 DMC's winch system continuously measures the force applied to the ropes and automatically regulates a constant tension. While two winches pull the ship in, the other two ensure this is done in a controlled manner and that the ship cannot move sideways or drift in too quickly. As these winches slowly spin, energy is recovered and then utilised by the towing winches. The winches can place a ship or another maritime object in the dock under their own power or do this in combination with tugboats.
The Emerald Princess is 290 metres long and 36 metres wide. The first real operation of the dock winches developed by DMC went beyond expectations. Electrical engineers from DMC Dynamics and the engineering department that develops the physical construction of the winches worked closely together.
DMC supplies a wide range of ship systems such as rudders, steering systems, nozzles, plus advanced winches such as anchor and towing winches. For specific projects, winches are developed completely according to the customer's wishes. DMC Dynamics provides sophisticated software for controlling the electrical systems, for the systems that are developed within Damen Shipyards Group, but also for external customers. With an experienced engineering department in the Netherlands and two production locations in Poland and China, DMC takes care of the complete production process.