QUICK AND EFFICIENT DELIVERY
Damen Anchor and Chain Factory (AKF) is the only company in the world that has been approved by Lloyds Register of shipping for manual welding of anchor chain up to 95 mm. We are able to manufacture custom made towing or mooring chain by using our anchor chain from stock. This way we can deliver towing or mooring chain quickly and efficiently. The chains welded and tested with LRS can be recertified by most other major bureaus of class with the exception of ABS.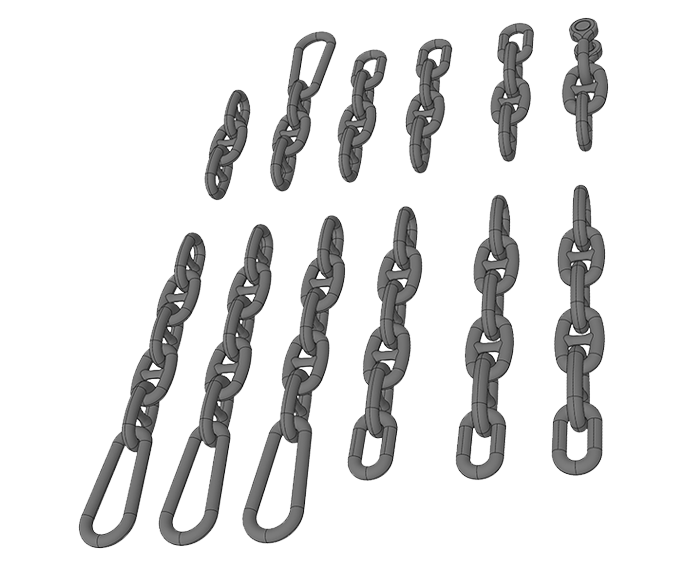 ON STOCK
We keep towing chains in stock to guarantee excellent availability.
PERFORMANCE
Tried and tested design for safe towing operations.
CLASS APPROVED
Lloyd's Registered welding of towing chains up to 95mm in diameter.
Whether you need anchors, chains or towing equipment, you will find it at Damen AKF. We keep a wide range of products in stock to prevent ordering delays. The result for you? Get what you need and get back in business with minimal downtime. It's as simple as that. If you need advice with making the right choice, don't hesitate to ask one of our knowledgeable team.
Damen Anchor & Chain Factory is backed up by the worldwide presence of Damen Shipyards Group. With a global network of more than 30 yards, we are never far away. This puts Damen Anchor & Chain Factory in the unique position to provide its customers with support on a global scale. Whether you need a new product, repairs or testing, you will receive the service you deserve.
Discover more about Damen Global Presence
For questions and/or comments, you can contact us using the details below or through the contact form.
All contact details